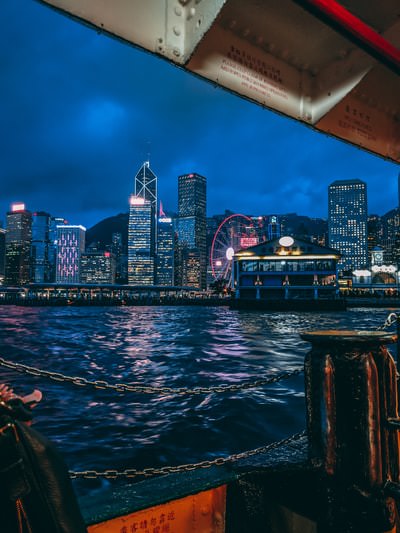 Joint statement of four countries
The United States, together with the United Kingdom, Canada and Australia, has submitted a joint statement against "Hong Kong National Security Law Resolution" of China for threatening the autonomy of Hong Kong.
"The US protest against Hong Kong is a double-edged sword, which not only harms Hong Kong's national interests, but also the United States' national interests." Hong Kong traded about $3 trillion for 10 years and has 1,300 US companies based in Hong Kong."
How important is Hong Kong
The movement over Hong Kong has been hot suddenly, but I am not sure which statement is correct with the two countries criticizing each other.
How economical is Hong Kong, and how effective are the US sanctions?
The Wall Street Journal in the US has published an article on this point today, so I summarized the points below.
The first conceivable sanction that the United States will take against Hong Kong is to deprive Hong Kong of its special status. Since 1992, the United States has separated Hong Kong from China for trade. If this status is taken up, it will be difficult to import high-tech equipment from the US, and exports from Hong Kong to the US will be subject to the same tariffs as products from mainland China.
But these are trivial compared to the sanctions currently being considered by the US Senate. Hong Kong is important for China as a trading port, but its role as a financial hub is much more important. China has assets of 1.14 trillion dollars (120 trillion yen) in Hong Kong. This amount has increased 3.7 times in the last 10 years. , China does most of its overseas business in dollars via Hong Kong. Because Shanghai is bound by mainland capital controls, China has no alternative to Hong Kong.
The United States is not in direct control of Hong Kong as a financial center. However, it has sanctioned financial institutions in South Korea, France, and Lebanon, which had traded with North Korea and Iran in the past. By taking advantage of its dominant position in the international financial system, the United States can use financial sanctions as a diplomatic card.
The United States cannot stop Hong Kong from supporting Chinese banks, but if Hong Kong's counterparty fears U.S. sanctions and becomes reluctant to deall with Hong Kong, it will significantly undermine Hong Kong's position as a financial hub,
If it becomes difficult for Chinese banks to carry out transactions in dollars, it will be difficult to continue infrastructure projects of China such as "One Belt, One Road" that are currently conducted in dollars.
While sanctions are likely to take place in stages, the US government's decision that Hong Kong is no longer self-governing may be the beginning of China's exclusion from the global financial system.
As mentioned above, the United States has a base currency of the dollar, and China has no choice but to use the dollar for overseas operations. The system is informed to the US government whenever you send money electronically, and the deception does not work.
If your company deals with a Chinese company in Hong Kong, you would be scared to do so if you were to be fined a lot from the US.
Financial sanctions by the United States have a terrifying effect, and the United States still controls the world's financial infrastructure.
Opportunity for Japan to emerge
The Hong Kong problem is at the very forefront of the new Cold War in which the United States and China compete for hegemony, but there is an opportunity for Japan to emerge here.
President Trump will continue to target China ahead of the presidential election, and China's president Xi seems to be criticized as weak diplomacy within the Communist Party, so it is not easy for him to show weak attitude agains for him.
As I wrote in the previous blog, I think that the value of Japan will increase in the context  of the US-China conflict. For security reasons, Japan is protected by the United States, so naturally, I think we should prioritize our relationship with the United States, but it is better to maintain a relationship with China.
In response to an interview with the BBC, Taiwan's President Cai Ying Wen clearly denied the one-country-two system that China advocated, "We are an independent nation." It was impressive that she made such comment.
She cannot give up in politics, but she will continue to enjoy the benefits of her economic relationship with China.
I think it is important for us too to learn from her attitude and to tie this opportunity to the interests of Japan.